Greetings from the President
Our company, Kyodo KY-Tec, was first established as Kyodo Denki in 1950. Based on our motto, "Technology for People & Society", we changed our name to Kyodo KY-Tec in 1992. We make it our mission to offer products and services that bring comfort to the world.

At this time, we have developed three divisions: the Bus Duct, Network Floor, and Green Roofing divisions. The products in each division have been uniquely developed and are sold under our company brand. Each product is highly positioned in each market, at or near the top of the rankings. Though our products are in niche markets, we pride ourselves on superior technology, quality, and service in the field, which we use to surpass the bigger companies in the market.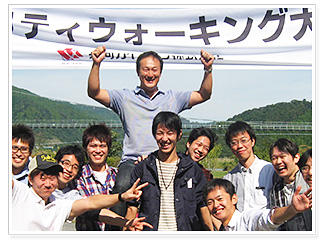 To keep up with the changing of the times, we have flexibly responded by developing new products, offering new services, and increasing manufacturing efficiency. In the oncoming years, we will face extreme changes unlike anything we have seen before. In order to win a place in it all, we, the staff of Kyodo KY-Tec, must continue to work hard to develop and provide new products and services that bring comfort to the world.

We hope to receive your continued support and guidance in the future.
Tateru Yoshida, President and CEO