E-BD Insulated Bus Duct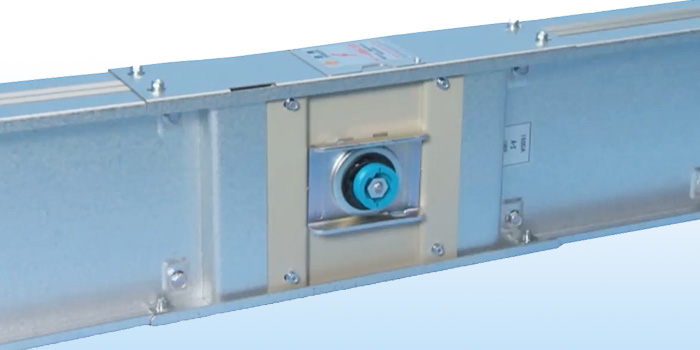 Our Flagship Bus Duct

With its outstanding versatility and compatibility, this is our best-selling bus duct. It is used for a variety of purposes.
Product Overview
Our Best-Selling Low Voltage Busbar Trunking System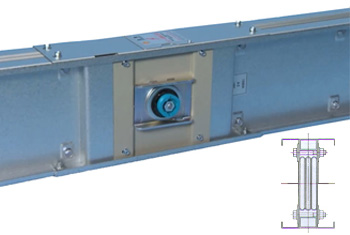 From low capacities to high capacities, the E-BD is our highly-versatile best seller. It can be used for a variety of general purposes.
| | |
| --- | --- |
| Applicable Standards | JIS C 8364 IEC 60439-1 IEC 60439-2 |
| Degree of Protection | Indoor: IP3X Outdoor: IP44 (Excluding ventilated sections) |
| No. of Wires | 2 / 3 / 4 |
| Rated Voltage | 600V |
| Rated Current | 600A - 6000A |
| Indoor/Outdoor | Indoor and Outdoor Units Available |
| Conductors | Aluminum / Copper |
| Capabilities | Feeder, Plug-In (Tap-Off) |
| Design | Sealed |
Main Features
1. Power Branching from Joiners
Our plug-in joiners featuring branching capabilities reduce the overall cost of bus duct installation.
Plug-In Joiner (Standard)
● Standard joiner with plug-in capabilities featured in bus duct joints.
● Allows branch capacity up to 600A to be utilized from both sides of the joint.
External Branch Joiner (Optional)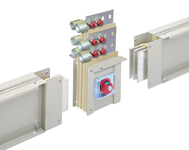 ● Joiner used for connecting cables directly to the bus duct joint.
● Supports up to 2 cables of 325 mm 2 (per phase). If using cables 150 mm 2 or smaller, branching can be done from the box in both directions (with 2 lines).
2. Power in Minimal Space
The E-BD compact design allows bus ducts to be arranged adjacently in the world's smallest installation intervals. This reduces the area needed for vertical installations by 45% in comparison with our previous products.

3. Environmentally-Friendly Components
The E-BD Bus Duct is made using non-asbestos, non-halogen materials.
4. Easy Transport and Installation
Using elbow units to change direction, the system can be configured with the maximum number of straight lengths. Elbow units can be oriented in any direction, making transport and installation easy. Please note that modified joiners do not have plug-in capabilities.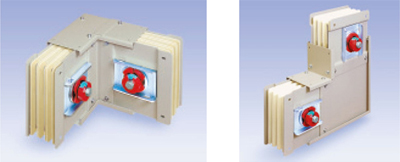 5. E-Support System
The E-Support System makes it easy to save space in the EPS. When installing bus ducts in parallel, it can save 45% more space in the shaft room than previous products.